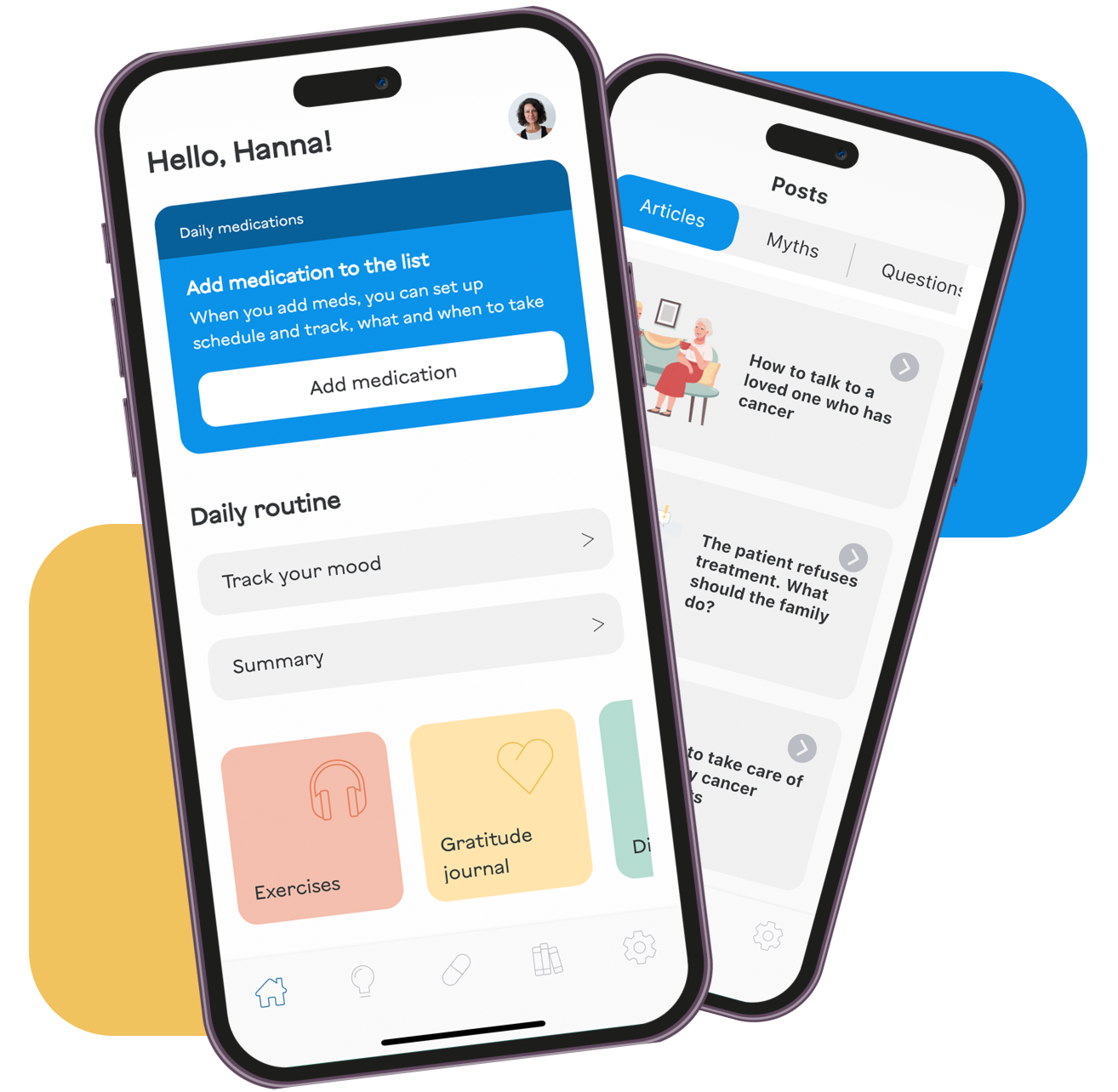 Holistic solution

 
for patient care

 
and mental wellbeing

 
Groundbreaking AI product designed to revolutionise home care for cancer patients and significantly improve the mental wellbeing of patients and their families.

Minimizing Family Stress
Our AI model is designed to reduce stress for the entire family during cancer treatment. By providing comprehensive support and a personalized approach, we aim to ease the burden often associated with such a difficult period.

Personalized Audio Exercises
Our AI model generates customized audio exercises and recommendations based on more than 50 individual metrics. This provides patients and their loved ones with targeted support tailored to their specific needs.

Relieving the Physician's Workload
We have designed AI to take some of the work out of the hands of doctors, so they can focus more on the important things in medicine, while our system provides invaluable support to the patient and family.
01
Reduce your stress
Reclaim your mental health in just 5 minutes a day. Audio exercises that are easy to do anywhere and at any time that suits you.
02
Monitor your own emotions
Monitoring your emotional state is an important tool. It allows you to focus on yourself and your needs.
03
Keep track of your medication
Instruct the app to remind the patient to take medications on time. Receive reports for each dose taken or missed.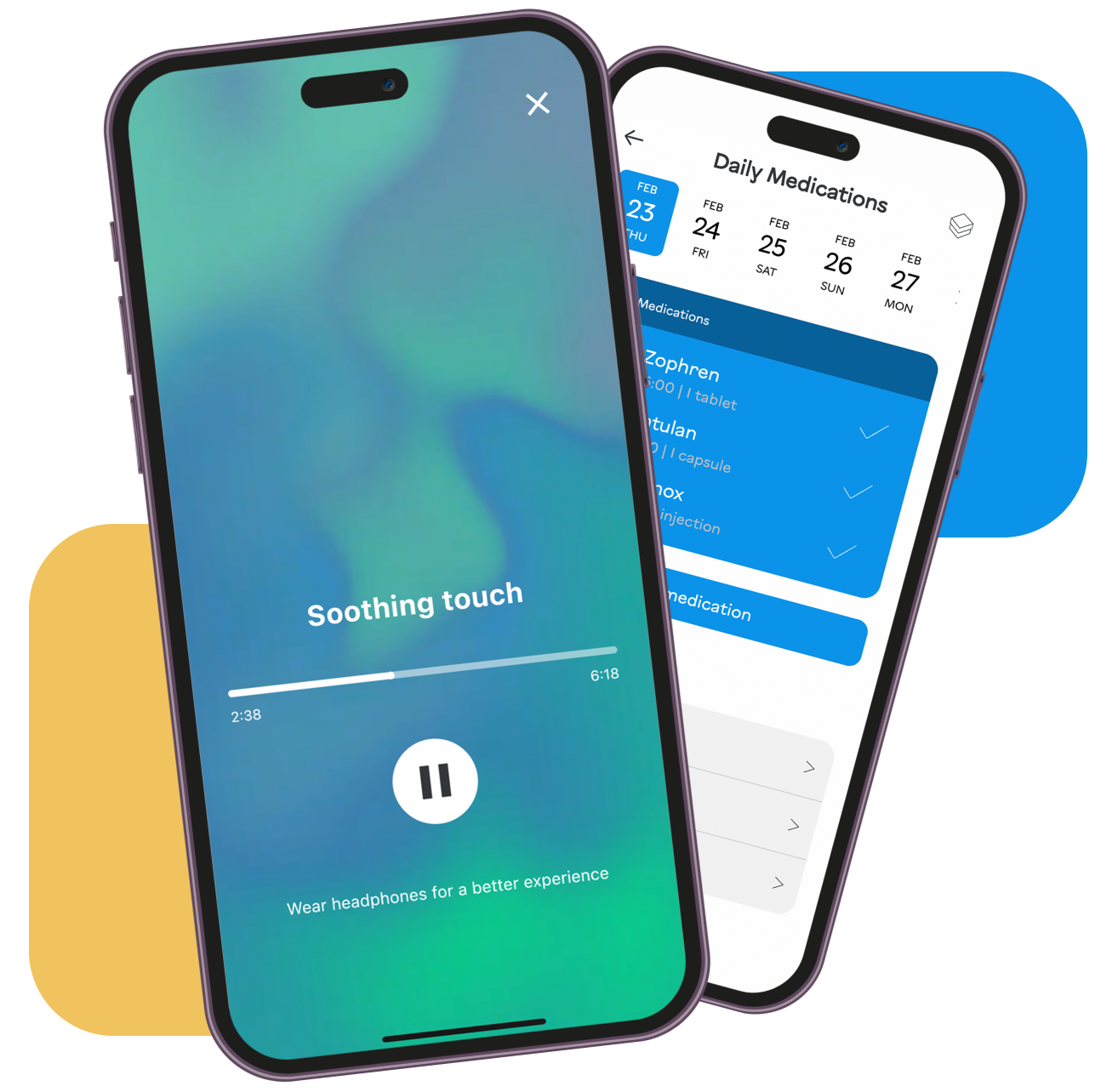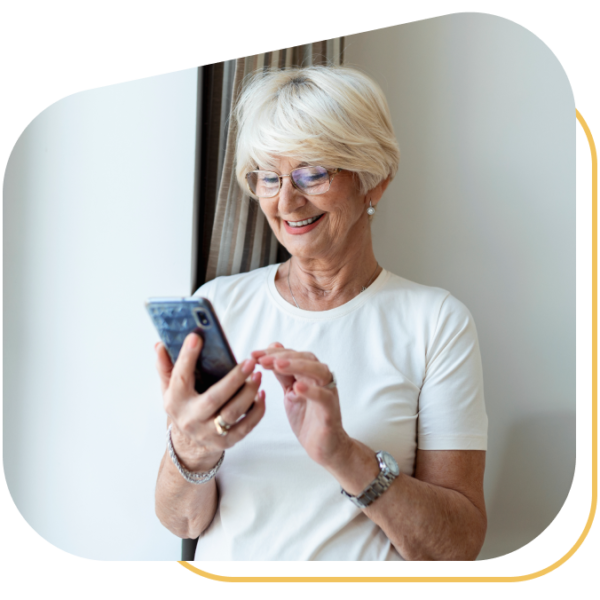 Personal assistant
for every user
Our holistic solution provides personalized psychological support tailored to each patient's unique needs, using cutting-edge Generative AI technology.
This is a new word in the field of psychological support for the families of cancer patients.
Audio exercises with a great sound design

A unique development by Scally Care Team

Reliable protection of personal information
Diary entry - Demo 1
I was very upset when I learned about my father's diagnosis. I could not believe it. How can he have lung cancer? He has never smoked and has been running for many years. Doctors say that at this stage he has good chances, but the whole family is depressed and we are scared. I just want him to be alive and healthy!
Diary entry - Demo 2
It's hard to look at my mom, after this course of chemotherapy she no longer looks like herself. She forgets her words and refuses to eat. Every time I have to explain to her that it is important for her life. She became very moody and angry with me. As if I am not her daughter, but some stranger. I understand that the treatment is affecting her, but it's hard to perceive her in this state.
Diary entry - Demo 3
It was a good decision to take Maria home with me. That way she will be close to her family. And we can give her the care she needs. We'll have to learn new habits and share responsibilities, but we will learn. As long as the treatment helps her and the cancer disappears. That will be the best reward for us.